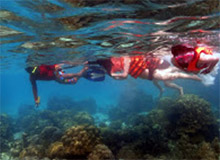 Surin island on the High Season - from October to April, is considered better than all islands of Andaman Sea. The professional snorkelers from around the world considered.

By the completed ecology with variety of colorful marine life, and coral reef makes Surin island is the most attractive island of Andaman Sea.

All beaches of Surin island are more white filled and soft sand. some one said warning, "do not eat the sand." And the sea water in the area is clearer than clear. However, some one who has been Surin Island said, they missed so many beautiful point, because of join tour is too crowded and the tour guide forgot to recommend every one to the best point for snorkeling.
To avoid the miss hope, Jc.Tour sets up this UCP - Upper Class Person , package for one day trip. This one day excursion can guarantee that you will not miss the wonderful experience for tour.

There are so many snorkeling sites surrounding Surin Island, and Jc.Tour had cut out "the so so sites," and put just " the must go points" in for snorkeling in the program. By this, you have time to consume real valued snorkeling site, and consume the beautiful virgin nature on the island as well.

In this trip, Jctour used the private tour guide for your team as "Extra" only , and your private tour guide will take care you as special to see the exactly things without any wasted time. By this, to make sure your team will not miss any beautiful things. And yes, being Upper Class Person tour.

Before submit the booking, please read the program, see the highlight pictures and study the detail. Especially, the land transfer and the tour guide must be the private one for yours - just for your group only. Or you may send the Inquiry with explanation your need.

Surin Island "do not eat it"...
The absolutely white and filled sandy beach at Mai-Ngam Bay on Surin Island makes you surprised. The sea water is clearer than clear makes you can see the colorful coral reef and fishes under the water by naked eyes. Rolling on the sand, walking to print your feet or jumping to say hello with the fishes by snorkeling...wow. "What a wonderful world."

"Surin Island Coral Reef" ..by Private Guide
"What about the house reef of Surin Island?" We can guaranteed you that you will never miss hope with the shallow coral reef of here. The ecology of a million fishes, a full of coral reef, turtles, squids, crabs, Sea Shells, tiger clams and the other marine life.

Let me repeat? this trip, you have got your private tour guide, he can lead you to show every beautiful points with explains.
Program: (Upper Class)

06:00 AM:
Your private tour guide with the private clean minibus picks you up at the hotel in Phuket (No any extra charge).. Remarks: Our tour guide and driver has been selected carefully, to make sure that they are ready to give the beautiful experience to you and team.
08:00 AM:
Arrival the pier in Nam-Kem Pier. Check In and your tour guide serves soft breakfast - continental breakfast, hot tea and coffee and Thai sweets.

Try the size for Snorkeling Gears - Mask, Snorkel and Fins.
09:00 AM:
High standard speed boat leave from the pier directly to Surin Island - the world class island tour for snorkeling.

"Travelling to Surin Island by Join Speed Boat, but your private tour guide will service just your group as specially"
10:00 AM:
Chong Khao Khad Bay... This is "the must go point" for snorkeling of Surin Island. The coral reef on the bay is connected to the main reef in the area of Limited People In..There are very variety species corals and marine life.

- And continue travel by Long Tail Boat to Morgan-Sea gyp sea Village. Seeing the strange tradition of sea water crib. The village located on the beautiful beach.

- Continue the trip to Mai-Ngam Bay - Stunning white sandy beach (This place you must warn yourself, "do not eat the sand") The water is clearer than clear, the coral reef is covered all area - just 3 steps away from the beach sand. "Take a seat on the sand under the tree shade, looking out the Andaman sea. The soft of silence from the soft wind "What a wonder world"
12:00 PM:
Lunch on the Island. Served Thai Food Set Menu - 5 Dishes.

- At Mai-Ngam Bay, you can walk through the nature on the Island to the other Bay - Ao Chong Khat Bay. And on the beach bay of of Surin is so nice to swimming out from the beach to see the house reef (Shallow Coral)
13:30 PM:
Continue the tour to Ao-Bon Bay for one more Snorkeling. Guarantee that you or your family will be very happy with real clear water and marine life under the water on this site. Just over the water, you can see the colorful fishes and coral reef. For sure it will the best for snorkeling and for everyone.
14:30 PM:
Turtle Bay, there is the continental shelf under the water, full of hard coral, sea flowers, marine life and sea turtles..
15:30 PM:
After full of sea life, we travel back to the pier.
17:00 PM:
Arrival the pier, take a shower, changing the cloth.

- Dinner Served.

- The private minibus of your team is waiting. Transfer back to Phuket as politely drive. The private transfer can make you more happy as travelling - Stop, slow or fast is upon to your order..Your tour guide and drive are ready to act as you order.
18:30 PM:
Arrival Phuket - your hotel, Airport or somewhere upon you request.
Price :

Adult
4,500 Baht/person

(Minimum 4 people's booking)

Child
3,500 Baht/person (3-10 years old)
Your private minibus is very clean, nice and polite driver. Comfortable with only your group, no crowded. And the driver is ready to take you order (Stop, slow, fast or faster or just comfortable cruise driving) This make your family happy and safe.
Tour Includes
Private R/T land transfer (Stop, Slow, faster, or fast is upon you request), No need to wait or no need to hurry.
Private Tour Guide (As in the join boat, the public boat guide service all people, but you have a extra tour guide which serviced only your team only) The extra tour guide will take care every thing for your team as extra
Equipment for snorkeling, full set: Mask, Snorkel and Fins. And before start do snorkeling, your extra tour guide will short train how to use the equipment and how to float yourself. To make sure that all of your team must not missed any beautiful thing under the water.
Soft Drinks: Coke, Fanta, Drinking Water, and Ice.
Seasonal Fruits
Lunch Thai Set Menu
Soft Breakfast at the pier
Soft Dinner at the pier.
Insurance.
What to bring:
Swimming Suits
Shorts & light T-shirt
Beach towel
Sun block
Sun cap
Sun glasses
Camera
Lots of smiles
Book Now!!! Gets FREE of Charge Transfer in by Private Minibus (Airport-Your Hotel)
---
Why Jc.Tour?:
Jc.Tour had registered for Tourism Company under the rule of Thailand Law: Both Outbound(31/01235) for around the world travel. Inbound(34/00235) for traveling in Thailand.
The right registration can be checked, and you can check for Jc.Tour at http://www.tourism.go.th
Jc.Tour is the Top Responsible and Great Service in TripAdvisor Rank.
Jc.Tour has been registering for Accident Insurance all around the world (Inbound: for travelling in Thailand and Outbound for around the world travelling). This makes sure that all the customers of JC Tour will be covered by Insurance in everywhere of the world they reach.
Before, During and After the service, you can contact us 24 hours.

Telephone :
+66 89 5727603
Line ID : @jctour
Whatsapp :
+66 84 8053153

| | | |
| --- | --- | --- |
| | + Phuket, THA | |
| | | |
| | + Bangkok, THA | |
| | | |
| | + Chiangmai, THA | |
| | | |
| | + Chumphon, THA | |
| | | |
| | + Koh Tao, THA | |
| | | |
| | + Koh Samui, THA | |
| | | |
| | + Surin Island, THA | |
| | | |
| | + Haatyai, THA | |
| | | |
| | + Khaosok, THA | |
| | | |
| | + Khaolak, THA | |
| | | |
| | + Krabi, THA | |
| | | |
| | + Lanta Island, THA | |
| | | |
| | + Mergui, MYAN | |
| | | |
| | + RajaAmpat, IDN | |
| | | |
| | + Laos, LAO | |
| | | |
| | + Unique, THA | |
| | | |
| | + Longtail Boat Charter Around Thailand | |
| | | |