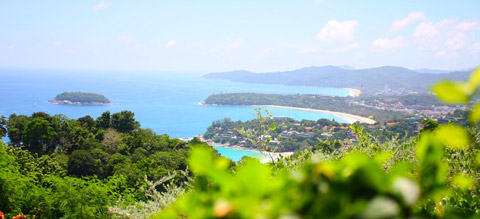 Phuket City Tour and Elephant Trekking:

We are very happy to set this trip, Sightseeing around Phuket. We need all tourists who come to visit Phuket to have a chance to touch real Phuket.
Itinerary :



Pick up time is 10.30 am.
, World Class Sightseeing Point- Automatically Sea, Sky Sun and Land come to stay together like the Masterpiece of World Artist.
has been voted by the tourist all around the world tourist is the number one in dream that they really want to lay down on the beach one time in their life. Because Naihan beach is only one that can considered to be "Non-crowded beach of Phuket"
, You can see Kata Noi, Kata Beach and Karon Beach by over view from the high mountain.
Discovery
- Thai Buddhist Temple. See the art of Vehicle, Monk Cottage and Pagoda.
Drive up to the highest hill of the Island, Nak-Kert Hill, and stop at
Point. 360 Degree View Point around, and worship to the holy Buddha, discover the wide places with 3 levels of top hill.
, The local people factory produces the Nuts with different tastes. You can buy the food gift from here.
, the best point to see 180 Degree Phuket Town View. On the top of the mountain, there is a bridge for walking to see nature closer.
Phuket Town, see the
.Do shopping at Fresh Market.
30 Minutes. Have an amazing experience. Trek across the canal through the rubber plantation. Feed them by hand to their trunk.


Price Includes:
English Tour Guide, Soft Drink, Elephant Trekking, Insurance.



Optional:

Tiger Kingdom




Optional:

Baan Teelanka: 1st and only upside down house in Thailand, quirky, unique, light-hearted, stunning photos opportunities.

Price :



| | |
| --- | --- |
| Adult | 1,650 Baht/person |
| Child | 1,400 Baht/person |
---
Why Jc.Tour?:
Jc.Tour had registered for Tourism Company under the rule of Thailand Law: Both Outbound(31/01235) for around the world travel. Inbound(34/00235) for traveling in Thailand.
The right registration can be checked, and you can check for Jc.Tour at http://www.tourism.go.th
Jc.Tour is the Top Responsible and Great Service in TripAdvisor Rank.
Jc.Tour has been registering for Accident Insurance all around the world (Inbound: for travelling in Thailand and Outbound for around the world travelling). This makes sure that all the customers of JC Tour will be covered by Insurance in everywhere of the world they reach.
Before, During and After the service, you can contact us 24 hours.

Telephone :
+66 89 5727603
Line ID : @jctour
Whatsapp :
+66 84 8053153

| | | |
| --- | --- | --- |
| | + Phuket, THA | |
| | | |
| | + Bangkok, THA | |
| | | |
| | + Chiangmai, THA | |
| | | |
| | + Chumphon, THA | |
| | | |
| | + Koh Tao, THA | |
| | | |
| | + Koh Samui, THA | |
| | | |
| | + Surin Island, THA | |
| | | |
| | + Haatyai, THA | |
| | | |
| | + Khaosok, THA | |
| | | |
| | + Khaolak, THA | |
| | | |
| | + Krabi, THA | |
| | | |
| | + Lanta Island, THA | |
| | | |
| | + Mergui, MYAN | |
| | | |
| | + RajaAmpat, IDN | |
| | | |
| | + Laos, LAO | |
| | | |
| | + Unique, THA | |
| | | |
| | + Longtail Boat Charter Around Thailand | |
| | | |