Coral & Rung Islands, the heaven for Coral Seekers

Every people in Phuket knew as the same is that Coral Island at Banana Beach is the most place for Coral Seeking. And the Rung Yai Island is the King for Peach Relaxing.
Because there is no commission trade on both islands, there is no joint tour provider arranged for this trip. Jc.Tour must set up this tour trip to be as a private trip only. For sure, the price must be higher but it will be full value to pay for an unseen place. Please read the details and see the highlight pictures in the program before submitting the booking.
Coral Island (At banana beach side) there is no beach chair, no beach traders. The beach had been empty. The people will lay down on the beach to relax. The kids just walk down to the sea from the beach to see a million kinds of fishes and coral reef. Real heaven for naked nature lovers and coral seekers.
On Rung Yai Island: There is no concrete building, no car, no motorbike, no crowd. All areas of the island are virgin, full of nature. If you love to see some place that is not developed, here it is.
Lunch on the Sea: Our speed boat will stop at the "Floating Museum" that "they will show many kinds of fishes and other marine life. And the seafood lunch will be served at the Floating Restaurant.
Our Private Minibus will transfer you from Hotel to the Pier in the morning.
Brief Program (Private Trip Only)

| | |
| --- | --- |
| 08:30 AM: | Pick up from your hotel |
| 09:00 AM: | Arrival at our private pier at Boat Lagoon Marina, warm your body by Hot coffee or Tea. |
| 09:15 AM: | We leave for Coral Island. |
| 09:40 AM: | Arrival Coral Island. Relaxing, Swimming and Snorkeling on Banana Beach. |
| 11:00 AM: | We depart Coral Island for Floating Fish Farm. |
| 13:00 PM: | We serve lunch at "Floating Restaurant." |
| 14:30 PM: | We arrival Rung Yai Island. Discovery, Lay down on the local beach on the Island, or swimming or snorkeling. |
| 16:00 PM: | We leave Rung Yai Island back to the Pier. |
| 16:30 PM: | Our minibus transfers you back to the hotel. |
Remarks: By this is the Private Trip, you can flexibility manage the time by yourself.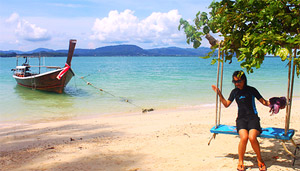 Price(Private Trip Only)

2-3 People: 6,500 Baht/Person.
4-8 People: 4,200 Baht/Person.
9-16 Peope: 2,900 Baht/Person.



Tour includes:
R/T land Transfer from Hotel to Boat Lagoon Marina Pier
Private Speed Boat
Private English Tour Guide
Full Set of Snorkeling Gears
Fruits and Soft Drinks (Coke, Fanta and Drinking water)
Set Menu Lunch on "Floating Restaurant)
Insurance (Accident)
What to bring:
Swimwear.
Towels.
Camera.
T-Shirts.
Sunscreen.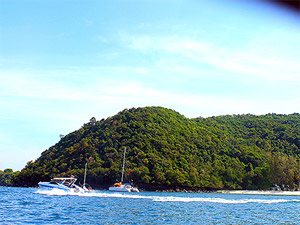 ---
Why Jc.Tour?:
Jc.Tour had registered for Tourism Company under the rule of Thailand Law: Both Outbound(31/01235) for around the world travel. Inbound(34/00235) for traveling in Thailand.
The right registration can be checked, and you can check for Jc.Tour at http://www.tourism.go.th
Jc.Tour is the Top Responsible and Great Service in TripAdvisor Rank.
Jc.Tour has been registering for Accident Insurance all around the world (Inbound: for travelling in Thailand and Outbound for around the world travelling). This makes sure that all the customers of JC Tour will be covered by Insurance in everywhere of the world they reach.
Before, During and After the service, you can contact us 24 hours.

Telephone :
+66 89 5727603
Line ID : @jctour
Whatsapp :
+66 84 8053153

| | | |
| --- | --- | --- |
| | + Phuket, THA | |
| | | |
| | + Bangkok, THA | |
| | | |
| | + Chiangmai, THA | |
| | | |
| | + Chumphon, THA | |
| | | |
| | + Koh Tao, THA | |
| | | |
| | + Koh Samui, THA | |
| | | |
| | + Haatyai, THA | |
| | | |
| | + Khaosok, THA | |
| | | |
| | + Khaolak, THA | |
| | | |
| | + Krabi, THA | |
| | | |
| | + Lanta Island, THA | |
| | | |
| | + Mergui, MYAN | |
| | | |
| | + RajaAmpat, IDN | |
| | | |
| | + Laos, LAO | |
| | | |
| | + Unique, THA | |
| | | |
| | + Longtail Boat Charter Around Thailand | |
| | | |