Fly from tree to tree in a rare piece of Phuket wilderness.

The new adventure game of Phuket, it is a mix of Relaxation, Nature Discovering and Adrenaline. We pass this new adventure to you by 28 platforms on the big high trees in the thick Safari of Phuket.
"The biggest Zip line Eco-Adventure in Southern Thailand."
We set the Adventure in the real safari. And in the game you can discover a nice Phuket View.
Everyone (Young, Old, Middle, Man or Girl) can fly. Our safety system is 100% Completed.
Some platforms make you relax, some platforms make you get Adrenalines.
Our staff are well trained and full of technical Flying and Service mind. All equipment had passed the World Standard Checking.
Price :



| | |
| --- | --- |
| 3,490 Baht/Person | 42 Platforms + A full fun adventure with Meal + Seasonal Fruit Set |
| | |
| | |
| 2,750 Baht/Person | 28 Platforms + A full adventure with seasonal fruit set. (No meal) |
| | |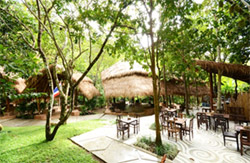 Remark : minimum booking 2 people
Pick up 2 times/Day : 09:00am. & 12:00pm.




Important Remark click here

---
Why Jc.Tour?:
Jc.Tour had registered for Tourism Company under the rule of Thailand Law: Both Outbound(31/01235) for around the world travel. Inbound(34/00235) for traveling in Thailand.
The right registration can be checked, and you can check for Jc.Tour at http://www.tourism.go.th
Jc.Tour is the Top Responsible and Great Service in TripAdvisor Rank.
Jc.Tour has been registering for Accident Insurance all around the world (Inbound: for travelling in Thailand and Outbound for around the world travelling). This makes sure that all the customers of JC Tour will be covered by Insurance in everywhere of the world they reach.
Before, During and After the service, you can contact us 24 hours.

Telephone :
+66 89 5727603
Line ID : @jctour
Whatsapp :
+66 84 8053153

| | | |
| --- | --- | --- |
| | + Phuket, THA | |
| | | |
| | + Bangkok, THA | |
| | | |
| | + Chiangmai, THA | |
| | | |
| | + Chumphon, THA | |
| | | |
| | + Koh Tao, THA | |
| | | |
| | + Koh Samui, THA | |
| | | |
| | + Haatyai, THA | |
| | | |
| | + Khaosok, THA | |
| | | |
| | + Khaolak, THA | |
| | | |
| | + Krabi, THA | |
| | | |
| | + Lanta Island, THA | |
| | | |
| | + Mergui, MYAN | |
| | | |
| | + RajaAmpat, IDN | |
| | | |
| | + Laos, LAO | |
| | | |
| | + Unique, THA | |
| | | |
| | + Longtail Boat Charter Around Thailand | |
| | | |