Change your normal holiday to be the best with finest BBQ Dinner on Private Island (Just you and yours at the Sunset Moment)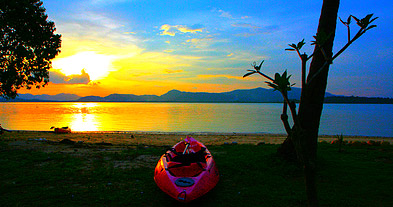 Idea of Private Island Sunset Dinner: If you have to look after the VIP, or you have some day or some moment which you need it becomes to be the Most Important Special Time, or you need a surprise private party for your special team's member.
Before the Classic Dinner Starts, we prepare all equipments for Canoeing, Snorkeling, Beach Relaxing and Fishing for you do the fun activities.
Afternoon Time Canoeing, Snorkeling or relaxing on the private atmosphere of the Island is a great for waiting the classic Dinner Sunset.
Sea Food; Lobsters, Big Prawns, Crabs, Fishes had set up on BBQ Place. As well as the Wine and Drinks are served at the Sunset Time.
Program

15:00 PM:
Private Minibus pick up from the hotel in Phuket.
16:40 PM:
The private Local Boat leave from Por Bay Pier directly to "Koh NakaNoi - Private Island.
17:00 PM:
Arrival the Island, get the private atmosphere, private beach, private garden, private beach chair, private canoe and everything private.
17:10 PM:
Relaxing as private time on the beach: Swimming, Snorkeling, Fishing or walking around. (In the mean time, our staff set up the Special BBQ.
18:00 PM:
Take a great moment of Sunset on Private Island.
18:30 PM:
Special BBQ Dinner Served.
Enjoy your private time as long as you like.
20:00 PM:
The boat leaves from the Island back to the pier.
21:00 PM
Our Private minibus transfer back to Phuket.



Private BBQ Includes:
R/T transfer from Hotel to the Pier.
Private Local Boat to the Island.
Equipments on the Island.
- Canoeing Gears
- Snorkeling Gear
- Fishing Gears
Top Class Seafood BBQ Menu
- Prawn
- Lobster
- Snappers
- Crabs
- Sea Shell
- Tom Yam Kung
- Fried Rice
Drinks:
- Drinking Water
- 1 Bottle of Bin2 Red Wine (For 2 People)
Price

| | |
| --- | --- |
| 5,300 Baht/Person. | (Minimum 2 people) |



Book Now!!! Gets FREE of Charge Transfer in by Private Minibus
(Airport-Your Hotel)
---
Why Jc.Tour?:
Jc.Tour had registered for Tourism Company under the rule of Thailand Law: Both Outbound(31/01235) for around the world travel. Inbound(34/00235) for traveling in Thailand.
The right registration can be checked, and you can check for Jc.Tour at http://www.tourism.go.th
Jc.Tour is the Top Responsible and Great Service in TripAdvisor Rank.
Jc.Tour has been registering for Accident Insurance all around the world (Inbound: for travelling in Thailand and Outbound for around the world travelling). This makes sure that all the customers of JC Tour will be covered by Insurance in everywhere of the world they reach.
Before, During and After the service, you can contact us 24 hours.

Telephone :
+66 89 5727603
Line ID : @jctour
Whatsapp :
+66 84 8053153

| | | |
| --- | --- | --- |
| | + Phuket, THA | |
| | | |
| | + Bangkok, THA | |
| | | |
| | + Chiangmai, THA | |
| | | |
| | + Chumphon, THA | |
| | | |
| | + Koh Tao, THA | |
| | | |
| | + Koh Samui, THA | |
| | | |
| | + Surin Island, THA | |
| | | |
| | + Haatyai, THA | |
| | | |
| | + Khaosok, THA | |
| | | |
| | + Khaolak, THA | |
| | | |
| | + Krabi, THA | |
| | | |
| | + Lanta Island, THA | |
| | | |
| | + Mergui, MYAN | |
| | | |
| | + RajaAmpat, IDN | |
| | | |
| | + Laos, LAO | |
| | | |
| | + Unique, THA | |
| | | |
| | + Longtail Boat Charter Around Thailand | |
| | | |