Similan Island (General package)
Similan Islands National Park: is the group of 9 islands off the west coast of the city Phang Nga in the Andaman Sea. The name "Similan" comes from the Malay word "Sembilan", which means nine. This one is an invaluable site of national heritage, not just a destination for tourists to exploit their own pleasure. Covering 80,000 Rais, this National Park has not been exploited by crass commercialism and is still unspoiled.

The islands are a source of knowledge for everybody, and they have a rich natural flora and fauna that remain remote from hunting pressure. Indeed, this National Park is not only a great place for diving and snorkeling, since it also allows visitors to appreciate nature's bounty. The Similan Islands are rated by the "Skin Diving" magazine amongst the 10 best diving sites in the world.

The following are some examples highlighted in the package.

We highly recommend you book this package NOW! if you really want to visit Similan Island.

Because of this, the seats on the boat are very limited, and the trip can be serviced for just 6 month (November - April only) and the island is very popular.
Stonehenge 0n the Andaman Sea (World Class Scene Point at Similan Island)
The Junction of Sea Animal: Millions Kinds of Fishes, Turtles, Coral Reef and Dolphins
Is there any place much more beautiful than here? "No, I don't think so."
Very clear water, Real best point for snorkeling or Swimming.
So funny and Exciting Snorkeling at Similan, the water is so clear and the fish is so much.
Program

07:00 AM
Pick- up from the hotel in Phuket , Phang Nga , Khaolak and transfer to Thaplamu Pier.
08:30 AM
Depart to Similan Island.
10:00 AM
Island Number 9, (Koh Bangu) Huge Granite boulders here tumbling down to depths of 40 meters and providing opportunities for dramatic swim through.

Island Number 8 (Koh Similan) you will enjoy snorkeling from the boat among a huge array of reef fish: Parrotfish, Surgeonfish, Damsels, Triggerfish, Banner fish, and Lionfish.

Island Number 7 (Koh Payu) for snorkeling
13:20 PM
Number 4, (Koh Miang) National Park Headquarter is located here for lunch. On the way, see the famous Elephant Head Rock. Lunch in an open air-restaurant. After lunch, free time to have a walk on the white sandy beach or in the rainforest or simply snorkeling/Swimming in the clear teeming waters surrounding this Island.
15:00 PM
Time to go back to Phuket
17:30 PM
Arrive at the pier and transfer to the hotel.

Tip :

Similan means 9 Islands .The Islands No.1, 2, 3 are unable to be visited.

Remark:

All programs are subject to change due to water tide conditions.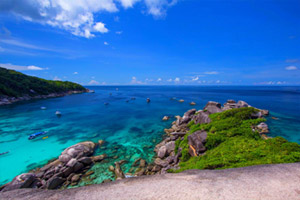 Price :


Adult 3,200 Baht/person

Child 2,300 Baht/person (3-10 years old)
Book Now!!! Gets FREE of Charge Transfer in by Private Minibus (Airport-Your Hotel)
Tour Includes
Pick up and drop off from the hotel
Lunch(Halal or Vegetarian food on your request)
Snorkeling Gears
Soft Drinks & Snack
Insurance
What to bring:
Swimming Suits
Shorts & light T-shirt
Beach towel
Sun block
Sun cap
Sunglasses
Camera
Lots of smiles
Remark : Only November - April
Notice: Our trips are not recommended for pregnant women.
Remark: All programs are subject to change due to water tide conditions.
---
Why Jc.Tour?:
Jc.Tour had registered for Tourism Company under the rule of Thailand Law: Both Outbound(31/01235) for around the world travel. Inbound(34/00235) for traveling in Thailand.
The right registration can be checked, and you can check for Jc.Tour at http://www.tourism.go.th
Jc.Tour is the Top Responsible and Great Service in TripAdvisor Rank.
Jc.Tour has been registering for Accident Insurance all around the world (Inbound: for travelling in Thailand and Outbound for around the world travelling). This makes sure that all the customers of JC Tour will be covered by Insurance in everywhere of the world they reach.
Before, During and After the service, you can contact us 24 hours.

Telephone :
+66 89 5727603
Line ID : @jctour
Whatsapp :
+66 84 8053153

| | | |
| --- | --- | --- |
| | + Phuket, THA | |
| | | |
| | + Bangkok, THA | |
| | | |
| | + Chiangmai, THA | |
| | | |
| | + Chumphon, THA | |
| | | |
| | + Koh Tao, THA | |
| | | |
| | + Koh Samui, THA | |
| | | |
| | + Haatyai, THA | |
| | | |
| | + Khaosok, THA | |
| | | |
| | + Khaolak, THA | |
| | | |
| | + Krabi, THA | |
| | | |
| | + Lanta Island, THA | |
| | | |
| | + Mergui, MYAN | |
| | | |
| | + RajaAmpat, IDN | |
| | | |
| | + Laos, LAO | |
| | | |
| | + Unique, THA | |
| | | |
| | + Longtail Boat Charter Around Thailand | |
| | | |