Racha or Raya Island is a small Island on the South of Phuket Island, the landscape of Racha Island will be covered by the tropical Garden. Local People on the Island live their life as simple, but very interesting.

There are 4 beautiful beaches around the Island which is much more than 50 great points for snorkeling.
Nowadays, there are several tour companies that service "One day Tour Trip" from Phuket to Racha Island. But the problem is that they will take you to see just 2 Points of deep Snorkeling (snorkel from the boat) and 1 Beach only. (Because of the time are not enough and too many people on the group tour)

Jc.Tour (Phuket) had determinate the above problem by setting up a small private group with a private Tour guide and set "2 Days 1 Night Racha Island Discovery"
By this Tour Package, you can see the underwater world by snorkeling, and Discovery around the Island by Sigh-seeing Walking with our expert tour guide around the Island; you can touch all of 4 Beaches as well as unlimited Snorkeling from the Beach.

The below  are our highlights pictures in the package and the brief program for your consideration to book the better experience on Racha Island.
Patok Beach is our first point to stop, Sandy Beach and great for Snorkeling (From the Beach).
Snorkeling at Racha Island can make you feel like staying in the other world, underwater world. Because the water here is clear like a mirror.
Check In at the hotel on the Beach. Raya Island Resort is the hotel which is connected to the nice beach (Siam Beach) which can make you roll on the beach ,swim and snorkel all Day and all Night.
When we walk around the Island, we can see a very nice view on the way and stop at every beach (4 Beaches) to get more snorkeling from the Beach.
Some beaches on Raya Island can make you forget to breathe. Wow.It is so beautiful.
Racha Island has an abandoned beach, abandoned safari and nice tropical garden. All in all, it is a highly valued place to visit.
Brief Program



Day 1




| | |
| --- | --- |
| 08:30 AM: | Pick Up from every hotel in Phuket Island |
| 09:00 AM: | Our speed boat leaves from the Pier directly to Racha Island |
| 09:30 AM: | Arrival Racha Island and start to Deep Snorkeling from the Boat |
| 13:00 PM: | Lunch Time on the Beach Restaurant |
| 14:30 PM: | Snorkeling on "Patok Beach". |
| 15:00 PM: | Our tour guide takes you to check in at Siam Beach. |
| 17:00 PM: | Back the beach of Resort and Relaxing |
| 18:30 PM: | Dinner Time at the Beach Restaurant. |




Day 2




| | |
| --- | --- |
| 08:00 AM: | Breakfast |
| 09:30 AM: | Our tour guide picks up and take you "Trekking Around the Island |
| 11:30 AM: | Stop for "Snorkeling again at Khon-Kae Beach (The best area for snorkeling) |
| 12:00 PM: | We serve the Lunch at the Restaurant of Khon-Kae Restaurant |
| 14:00 PM: | We trek back to the Hotel |
| 15:00 PM: | Check Out and walk back to the Pier |
| 15:30 PM: | We leave from Raya Island to Phuket |
| 17:00 PM: | Everyone arrives at the hotel in PHuket. |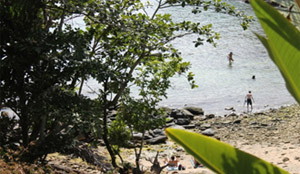 Price

| | |
| --- | --- |
| Adult | 8,200 Baht/person |
| Child | 7,200 Baht/person |



Book Now!!! Gets FREE of Charge Transfer in by Private Minibus (Airport-Your Hotel)
Price Includes
Pick Up and Drop Off from the Hotel in Phuket
Accommodations: Siam Beach Resort (Super Room + Air-condition + Hot Shower +Refrigerator + TV + High Speed Internet)
All Meals: Lunch - Dinner -Lunch(Halal or Vegetarian food on your request)
Full Set Equipment for Snorkeling
Private Tour Guide (High Expert at Racha Island) for 2 Days
Insurance
---
Why Jc.Tour?:
Jc.Tour had registered for Tourism Company under the rule of Thailand Law: Both Outbound(31/01235) for around the world travel. Inbound(34/00235) for traveling in Thailand.
The right registration can be checked, and you can check for Jc.Tour at http://www.tourism.go.th
Jc.Tour is the Top Responsible and Great Service in TripAdvisor Rank.
Jc.Tour has been registering for Accident Insurance all around the world (Inbound: for travelling in Thailand and Outbound for around the world travelling). This makes sure that all the customers of JC Tour will be covered by Insurance in everywhere of the world they reach.
Before, During and After the service, you can contact us 24 hours.

Telephone :
+66 89 5727603
Line ID : @jctour
Whatsapp :
+66 84 8053153

| | | |
| --- | --- | --- |
| | + Phuket, THA | |
| | | |
| | + Bangkok, THA | |
| | | |
| | + Chiangmai, THA | |
| | | |
| | + Chumphon, THA | |
| | | |
| | + Koh Tao, THA | |
| | | |
| | + Koh Samui, THA | |
| | | |
| | + Haatyai, THA | |
| | | |
| | + Khaosok, THA | |
| | | |
| | + Khaolak, THA | |
| | | |
| | + Krabi, THA | |
| | | |
| | + Lanta Island, THA | |
| | | |
| | + Mergui, MYAN | |
| | | |
| | + RajaAmpat, IDN | |
| | | |
| | + Laos, LAO | |
| | | |
| | + Unique, THA | |
| | | |
| | + Longtail Boat Charter Around Thailand | |
| | | |