+ White Water Rafting for 9 KM on Level 5 Route (Top Great Thrilling)
+ 2.5 Hours ATV Riding on the Level 4 hard Route (Very difficult but top great)
+ Trekking to Safari Waterfall (1 Hour.) Real Nature Safari Route (Top Nature
Song-Prak Safari is located in the area of Phang-Nga Province, Phang-nga Province is boarding to Phuket Island.
Almost all of the tourists in Phuket like to book a "One day tour trip to enjoy holiday activities in Phang-Nga Province".
This safari is not far in Phuket. (Just 1 Hour by car)
This safari will consist of both a 100% completed nature Safari and the Nice River with Waterfall which is great for rafting.
The tour at this Song-Prak Safari will be great to do Safari Trekking, White Water Rafting and Adventure ATV Riding.
The trip is suitable for anyone who loves Safari, Nature and High level adventure, we are very proud to offer this Top Level Adventure Private Package.
Our high level White Water Rafting, the safety equipment must be 100% Safe before starting. Our instructor must be sure that all customers know very well "How to control the Raft".
Afterward, Rock & Roll is starting on the river; Let your hard flying away. Guarantee great fun.
Stopping for lunch and relaxing, we served a buffet lunch at our Restaurant on the River Side.
Safari Trekking on our private Package will walk along the most beautiful area of Song-Prak Safari and on the side of the stream and the last stop point at Waterfall.
Great Fun, Great Route,Top enjoy and High level adventure, we guarantee. This is the highlight of this trip. ATV Adventure riding. (Our instructor will train you 30 minutes before start, to make sure that you are able to get the top fun.)
Brief Programs

| | |
| --- | --- |
| 08:00 AM: | Pick up you and team by Private Minibus from the hotel in Phuket. |
| 09:00 AM: | Start to learn "How to do a perfect ATV. Our professional instructor will train you for 30 Minutes. |
| 09:30 AM: | Start to ride on the real rude route. (By you have passed the train, we trust that you can pass this) Top Adventure, we guarantee. |
| 11:30 AM: | We start relaxing by jungle walking past the real nature of Thailand and stop relaxing at "The most beautiful waterfall of the South. |
| 13:00 PM: | Lunch at Safari Restaurant on the beautiful bank Song-Prak River. |
| 14:30 PM: | Our instructor starts to train "how to control the Raft amid a very fast water stream. |
| 16:30 PM: | We are heading back to Phuket. |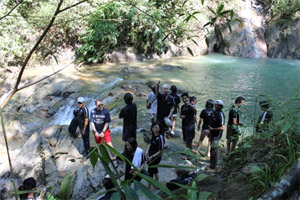 Price(Private Trip)

| | |
| --- | --- |
| Adult | 6,500 Baht/person |
| Child | 6,300 Baht/person |



** Make the booking Now - 30 September for any time using, get the special Price is just
- 5,700 Baht/Adult
- 5,000 Baht/Child
Book Now!!! Gets FREE of Charge Transfer in by Private Minibus (Airport-Your Hotel)
Price includes:
Private Minibus Pick Up and Drop Off
Private Tour Guide
Insurance 100% Accident
Soft Drinks and Snack served all the time
Lunch(Halal or Vegetarian food on your request)
Not including ATV Damage.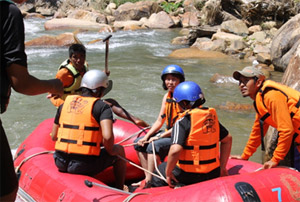 ---
Why Jc.Tour?:
Jc.Tour had registered for Tourism Company under the rule of Thailand Law: Both Outbound(31/01235) for around the world travel. Inbound(34/00235) for traveling in Thailand.
The right registration can be checked, and you can check for Jc.Tour at http://www.tourism.go.th
Jc.Tour is the Top Responsible and Great Service in TripAdvisor Rank.
Jc.Tour has been registering for Accident Insurance all around the world (Inbound: for travelling in Thailand and Outbound for around the world travelling). This makes sure that all the customers of JC Tour will be covered by Insurance in everywhere of the world they reach.
Before, During and After the service, you can contact us 24 hours.

Telephone :
+66 89 5727603
Line ID : @jctour
Whatsapp :
+66 84 8053153

| | | |
| --- | --- | --- |
| | + Phuket, THA | |
| | | |
| | + Bangkok, THA | |
| | | |
| | + Chiangmai, THA | |
| | | |
| | + Chumphon, THA | |
| | | |
| | + Koh Tao, THA | |
| | | |
| | + Koh Samui, THA | |
| | | |
| | + Haatyai, THA | |
| | | |
| | + Khaosok, THA | |
| | | |
| | + Khaolak, THA | |
| | | |
| | + Krabi, THA | |
| | | |
| | + Lanta Island, THA | |
| | | |
| | + Mergui, MYAN | |
| | | |
| | + RajaAmpat, IDN | |
| | | |
| | + Laos, LAO | |
| | | |
| | + Unique, THA | |
| | | |
| | + Longtail Boat Charter Around Thailand | |
| | | |